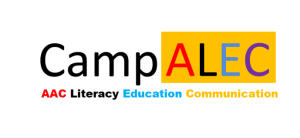 We are very excited that you are coming to our first-ever literacy camp for students with significant disabilities in the United States.  The group of professionals who are signed up are all prepared for this Level II experience so come ready to learn and contribute as part of this exciting group.
This site is intended to provide you with details you'll need to complete your registration, confirm your housing, and keep informed of new information as it becomes available.  First reminders about the details:
What: An intensive, overnight camp for older children and adolescents with significant disabilities including those who use AAC.   This is a level II course for adults who have completed a one-week intensive literacy course with David Koppenhaver and Karen Erickson
When:  July 27 – August 2, 2014  (NOTE: You should plan to begin on the morning of July 27 and leave camp the afternoon of August 2, 2014)
Where:  Variety Club Camp,  Variety Club Camp & Developmental Center, PO Box 609 Worcester, PA 19490
Registration fee:  $750 per adult participant
Meals:  You are required to have meals at camp at a cost of $20/day for a total of $120 (this fee is added to the $750 registration fee).  The camp will accommodate dietary restrictions as needed. You must communicate with dietary needs clearly well before camp begins.
Housing (paid in advance if staying at camp – Option 1)
Housing Option 1: You may choose to stay at the Variety Club Camp at a rate of $40 per night.  The housing at camp is NOT private.  You will share a bunk house with up to 20 participants in 10 sets of bunk beds. The bunk houses have shared bathrooms and no kitchen facilities. Also, there is a strict no alcohol policy on camp.  If you plan to stay at camp, do NOT attempt to bring any alcohol with you.
Housing Option 2:  You may  choose to stay at a local hotel, but you will have to organize your own transportation to and from the hotel each day.  A block of rooms has been reserved at the Holiday Inn Lansdale.  The hotel is located 5 miles from camp.  A group rate of $109 per night is available (group name = Camp ALEC).  If you choose to stay in the hotel you are responsible for making the reservation and arranging transportation to/from camp each day. To make reservations, go to the hotel website or call  1.877.865.6578 and provide the group name, Camp ALEC.
General Format : The camp offers a combination of lecture (a la Dave & Karen) and hands-on practice with campers.  The advanced participants will work together to problem-solve and plan assessments and interventions to address the needs of the learners with complex needs.  The campers range from emergent readers and writers to college-bound students with complex needs who want to know how they can be more successful. As with all of our courses and camps, the week is intensive and participation in all aspects is expected.  A specific schedule will be published as soon as it is available; however, participants should plan to begin on the morning of July 27 and leave camp the evening of August 2, 2014.
Payment and Paperwork:

Return all paperwork to Karen Erickson via email or snail mail at CB #7335, UNC-CH Chapel Hill, NC 27599
All adults must complete the Participant Registration Form and the Emergency Contact Form.
You can pay online using Paypal or via check*.  All payments must be received by June 24, 2014.
Send a check made out to the Center for Literacy & Disability Studies to:  Karen Erickson CB #7335, UNC-CH Chapel Hill, NC 27599
Use Paypal which will allow you to pay by credit card or securely transfer money from your bank account.
*If you need to process a purchase order, please contact
Karen
 to make the arrangements.